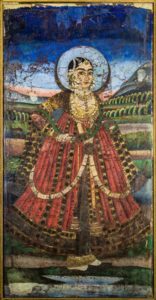 From The introduction: "Though the 2015 Met Museum exhibition Sultans of Deccan India, 1500–1700: Opulence and Fantasy focuses mainly on the sultans of south-central India, art history reveals to us that the Deccan world was also notable for its strong female characters. Two stand out among them as particularly remarkable: Chand Bibi, the sixteenth-century queen of Ahmadnagar; and Mah Laqa Bai Chanda, the eighteenth-century poetess of  Hyderabad."
This webpage provides a concise yet detailed account of the most interesting facets of courtesan and poetess Mah Laqa Bai Chanda's life as well as some beautiful images. We learn Mah Laqa Bai Chanda was impressively wealthy and a lover of literature: she commissioned a great library of arts and sciences, as well as sponsoring many poems.
Left: Right: Portrait of Mah Laqa Bai Chanda, ca. 1800. Hyderabad. Hyderabad Archaeological Museum. Photograph by Antonio Martinelli; accessed on Metmuseum.org.