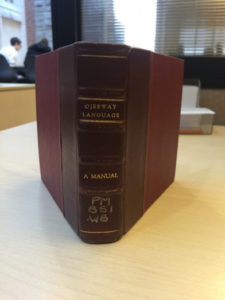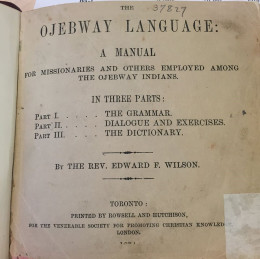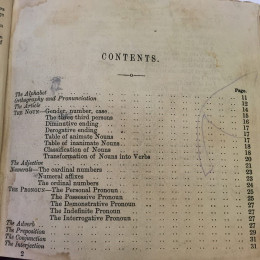 The Ojebway Language: A Manual was one of the first English books to address the Ojibwe language. Edward Francis Wilson wrote the book based on his experiences as an English Anglican missionary at the church's missions in Sarnia and Garden River. He sought to fulfil a need created by the arrival of English-speaking missionaries to communicate directly with potential converts. Wilson was a firm believer in the importance of Indigenous schooling, and helped to found Shingwauk Industrial School in 1871. This book was written in 1874 while he was fundraising for a new building.
Ojebway Language is important because it offers anthropological and personal insight into Edward Francis Wilson's ambivalent relationship with Ojibwe communities and culture. While Wilson had knowledge of their language and culture, he ultimately believed that Ojibwe children should be taught English, Christianity and to forget their own language and cultural heritage. Like other contemporary anthropologists, he believed that Ojibwe culture was doomed; by publishing this guide he was assisting in its demise. . .
THE BOOK AND ITS CONTENTS
The Ojibway Language: A Manual, was written by Edward Francis Wilson as a small and portable manual for missionaries and other groups of people working in the region. This book was important in helping missionaries speak the language of the people they were trying to convert. The book is separated into three parts: The Grammar, Dialogue and Exercises, and the Dictionary, which translates Ojibwe words into English. The Dialogue and Exercises section are broken down into further conversational gambits to use when "visiting with Indians" such as: "Are you Indians going to build yourself houses such as they have at Garden River?" and "Do your children go to school?"[48], showing what Wilson felt were the necessary factors in converting the Ojibwe.  The book also hints at the difficulties Wilson experienced as a missionary through his silences on how many people he converted , or any mention of  the entrenched Methodist community  with which he came into conflict. . The manual is similar to other popular colonial guides to Indigenous languages, such Stephen Return Riggs' manual on the Sioux language written twelve years earlier, and marked a shift in Wilson's career from missionary work to anthropological research.
PROVENANCE
Edward Wilson's Ojebway Language was published in Toronto by the Venerable Society for Promoting Christian Knowledge (1874). This pocket size manual aimed to teach missionaries Ojibwe in order to convert Indigenous people to Christianity.  Like many of the rare books in the Huron Library collection, its provenance is difficult to trace. There are few clues pertaining to its journey to the college. Despite this, research shows that the manual was a means to further connect two inherently different cultures and people, since Wilson himself struggled to communicate with the Ojibwe community Wilson's book was originally penned to target missionaries working in this region. He believed that in understanding the language of the local people, missionaries would be more successful in converting them.  Today, the book offers insight into the Ojibwe language, demonstrates contemporary anthropological beliefs about Indigenous peoples and highlights the complex relationships between Ojibwe and European missionary communities at the end of the nineteenth-century. The full text of the book is available here: http://eco.canadiana.ca/view/oocihm.25984/8?r=0&s=1