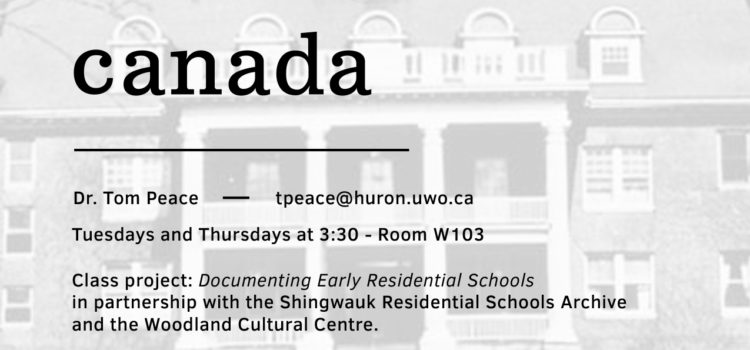 Students enrolled in HIST 3201E: First Peoples and Colonialism in Canada in the 2018-19 academic year will work on digitizing and transcribing historical records related to the residential school system, creating research tools for the Woodland Cultural Centre, including a database and research guide to facilitate interpretation of the documents. In summer 2019, undergraduate research assistants will be hired at each of the partner institutions to complete the project's work.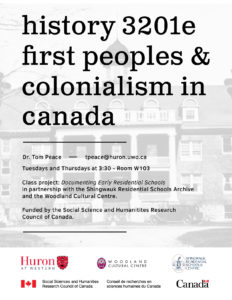 The goal of the project is to make important historical documents available to the Woodland Cultural Centre as they redevelop the Centre's historical interpretation. The Woodland Cultural Centre is steward of the building that used to house the Mohawk Institute, Canada's longest running residential school, in operation from 1828-1970. The documents with which the students will engage – held in the archives of the Anglican Diocese of Huron and the Shingwauk Residential Schools Centre at Algoma University in Sault Ste. Marie – provide insight into daily life at the Institute; they include a mid-nineteenth-century attendance register and correspondence related to the early years of the residential school system.
Huron history professor Dr. Thomas Peace, who is coordinating the class, says "In addition to providing resources for Woodland, furthering their important healing and educational work, this project will build and strengthen relationships between our institutions, allowing us to better understand what this history means for our respective organizations. Taken together the material produced from this project will spark renewed focus on the early history of residential schools, an area of study that remains poorly understood and studied."
Huron University College is proud to be partnering with the Social Sciences and Humanities Research Council, the Woodland Cultural Centre and Algoma University. This partnership, expanding access to the early history of the Mohawk Institute and Shingwauk School, reflects the historical relationships that structured the creation of these documents. Woodland and Algoma were both created as important sites of healing, education, and community building following the closure of the Mohawk Institute and Shingwauk Residential School. Huron University College and the Anglican Diocese of Huron were connected to both schools from their earliest inception.