On behalf of the Library and Learning Services (LLS) team at Huron, I am delighted to welcome you. If you've not already had an opportunity to visit the Library in person, I encourage you to take a moment to stop by, to introduce yourself, and to learn about all of the wonderfully rich and robust resources and services we offer. Our team of library and learning professionals – librarians, writing, communication, and language experts, and library staff – are all here to work with you and to support your learning. We're excited to meet you! Come in or learn more at: https://huronuc.ca/library
We understand that starting university is a huge transition, whether you've lived here in London, ON your whole life or you're from another part of the world entirely. It's an exciting time to be sure, but it can also feel a little overwhelming and at times, isolating. That's why we started Huron's community reading program, the #Huron1Read.
Each year, our first-year students and all Huron faculty and staff are given a copy of the same book and are encouraged to read it together. We begin the official Huron1Read Program at O-Week's Academic Dinner, where you will learn more about this year's H1R Book and Author, as well as the H1R programming and activities that we have planned for the upcoming year – including an author visit to campus during the Winter term. Participating in the H1R Program by reading and talking about the book with classmates and colleagues is a great way to build community.
So please read (and enjoy!) Our Homesick Songs by Emma Hooper – our gift to you! We hope to see you in the Library and at #Huron1Read events throughout the year.
Sincerely,
Melanie Mills
Director, Library and Learning Services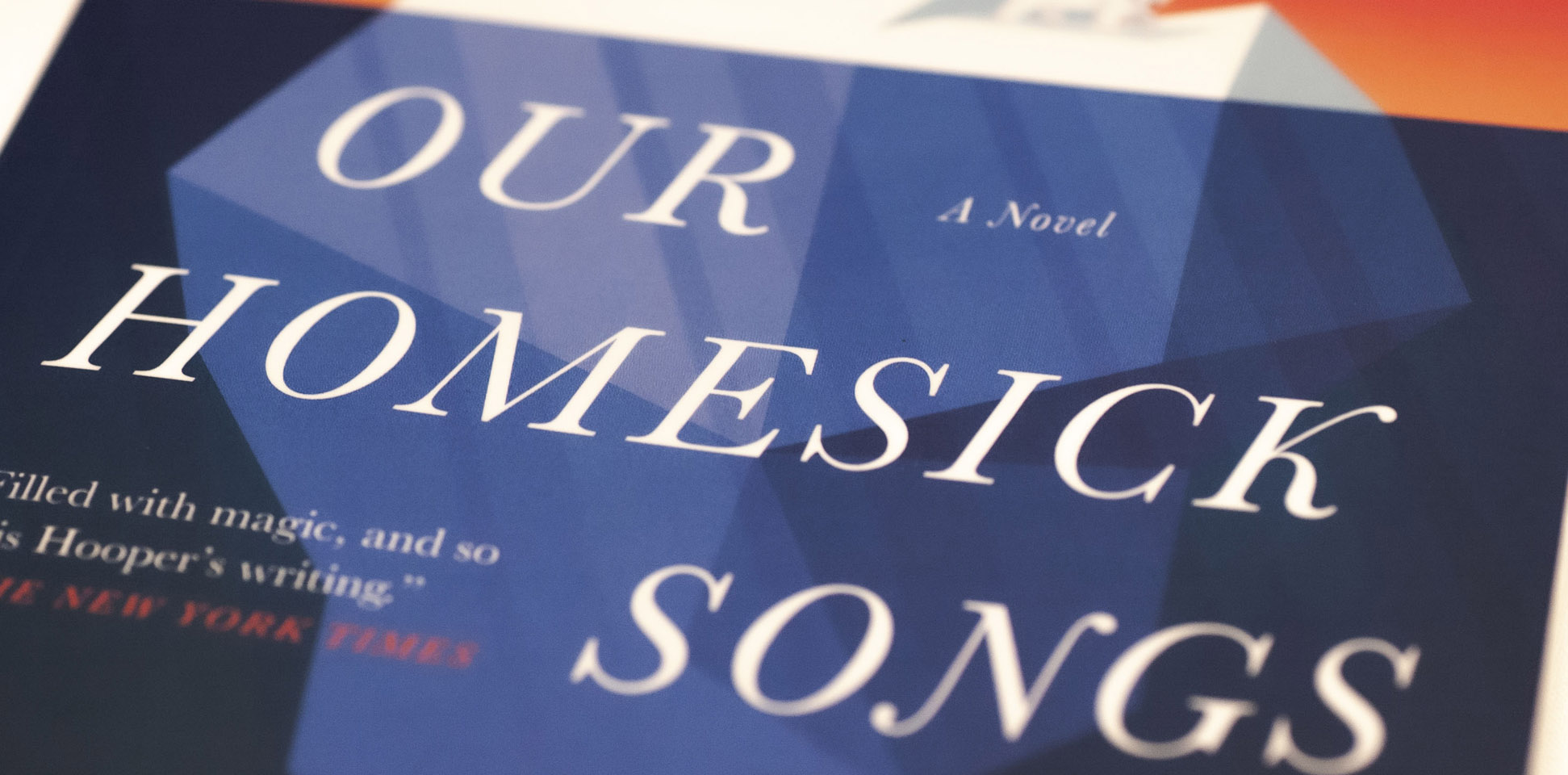 Our Homesick Songs Longlisted for the 2019 Scotiabank Giller Prize. From the book cover:
Newfoundland, 1992. When all the fish vanish from the waters and the cod industry abruptly collapses, it's not long before the people begin to disappear from the town of Big Running as well. As residents are forced to leave the island in search of work, ten-year-old Finn Connor suddenly finds himself living in a ghost town. There's no school, no friends, and whole rows of houses stand abandoned. And then Finn's parents announce that they too must separate if their family is to survive. But Finn still has his sister, Cora, with whom he counts the dwindling boats on the coast at night, and Mrs. Callaghan, who teaches him the strange and ancient melodies of their native Ireland. That is until his sister disappears, and Finn must find a way of calling home the family and the life he has lost.
Questions to Consider as you Read Our Homesick Songs:
Emma Hooper weaves two timelines in the telling of the story of the Connor family, and in both cases the events are recounted through the lens of youth. How does this perspective affect the telling of the story? How does it influence the reader's understanding of the events that take place in the novel? What is foregrounded and what is downplayed?
Hooper's narration style in Our Homesick Songs has been described as lyrical. In its sparseness, it could be seen as staccato with her use of trimmed-down dialogue, short sentences, and brief descriptions. How does style of writing affect your engagement with the story and/or the characters?
There is a strong nostalgic component to the portrayal of 'home' in the novel, and each character betrays their homesickness in different ways. Is there anything unusual about Cora's relationship to 'home'?
The collapse of the cod fishery in Newfoundland serves as the backdrop to this novel. In 1992, a moratorium on fishing came into effect and more than 30,000 people were out of work. At the time, the then Minister of Fisheries and Oceans, John Crosbie, responded to protestors saying, "I didn't take the fish from the goddamn water, so don't go abusing me." Is there a place for blame in ecological pressure and disaster? Does Hooper tackle the question of environmental responsibility in her novel?
The characters in Our Homesick Songs respond to the collapse of the fishing industry in a variety of ways. What positive strategies do Hooper's characters adopt in order to help cope with the changes they experience in the novel?
In the 1960s and 1970s, many rural Newfoundland communities became part of a resettlement program to move residents to larger villages and towns as the fish industry became more centralized and industrialized. As part of this program, houses were often moved across the water to their new homes, a move that Mrs. Callaghan in the novel refuses to make. Broadly speaking, what is it that we take with us, and what do we leave behind, when we leave our home?
When Mrs. Callaghan recounts the story of St. Patrick and the snakes to Finn, she says that many Irish citizens followed the snakes-turned-cod to Newfoundland. Do you see parallels between this first migration and the second from Newfoundland to Alberta?