Huron 1 Read 2016
Gender Failure by Rae Spoon & Ivan E. Coyote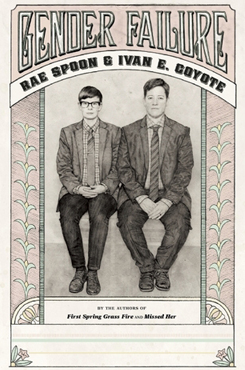 From the jacket cover:
Ivan E. Coyote and Rae Spoon are accomplished, award-winning writers, musicians, and performers; they are also both admitted "gender failures." In their first collaborative book, Ivan and Rae explore and expose their failed attempts at fitting into the gender binary, and how ultimately our expectations and assumptions around traditional gender roles fail us all.
Based on their acclaimed 2012 live show that toured across the United States and in Europe, Gender Failure is a poignant collection of autobiographical essays, lyrics, and images documenting Ivan and Rae's personal journeys from gender failure to gender enlightenment. Equal parts hilarious and heartbreaking, it's a book that will touch LGBTQ readers and others, revealing, with candor and insight, that gender comes in more than two sizes.
The Truth About Stories by Thomas King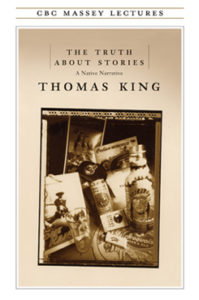 Winner of the 2003 Trillium Book Award.  From the jacket cover:
"Stories are wondrous things," award-winning author and scholar, Thomas King declares in his 2003 CBC Massey Lectures. "And they are dangerous." Beginning with the traditional Native oral story, King weaves his way through literature, history, religion and politics, popular culture and social protest, gracefully elucidating North America's relationship with its Native peoples.
Thomas King is a Professor of English at Guelph University, where he teaches Native Literature and Creating Writing. King published his first novel in 1990, and has since become an award-winning author, presenter, and radio-host.
Huron 1 Read 2015
The End of Absence by Michael Harris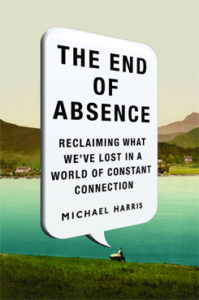 From the Jacket Cover: "In this eloquent and thought-provoking book, Michael Harris argues that amid all the changes we're experiencing, the most interesting is the one that future generations will find hardest to grasp. That is the end of absence – the loss of lack. The daydreaming silences in our lives are filled; the burning solitudes are extinguished. There's no true 'free time' when you carry a smartphone. Today's rarest commodity is the chance to be alone with your own thoughts"