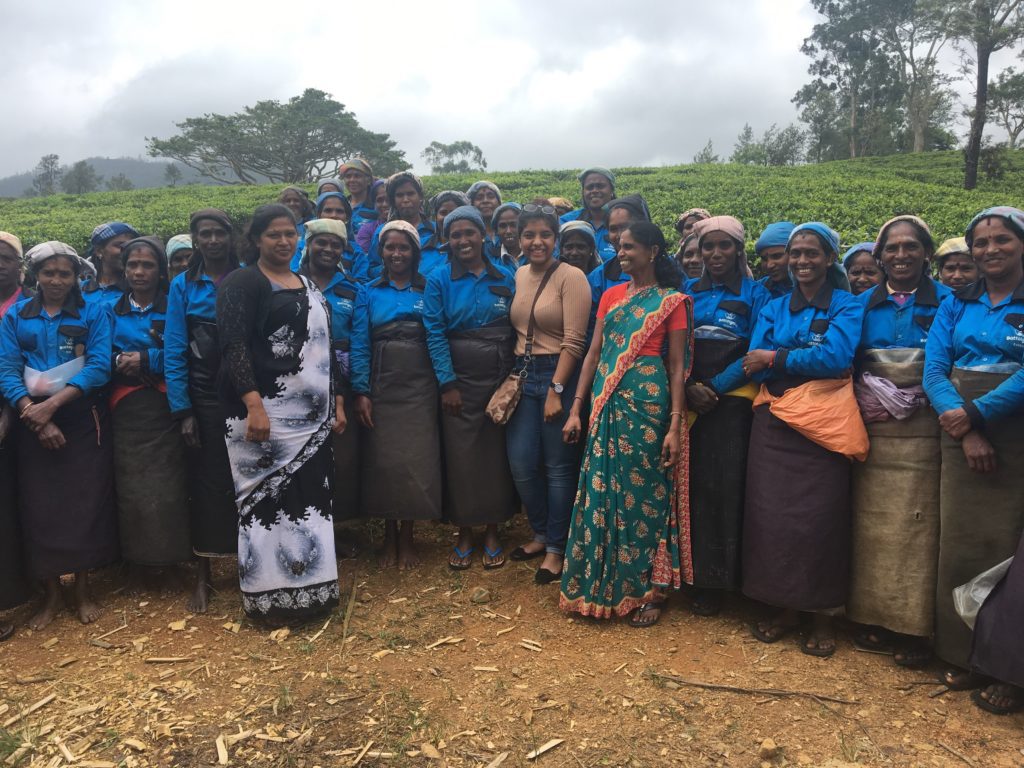 Valentina used her Travel Bursary to complete research and volunteer work in Sri Lanka as part of WUSC and CECI's Uniterra Program.
I began my mandate as a Uniterra volunteer by going on field visits to various estates. Here, I was given the opportunity to meet both the management and the workers within the estate. Meeting with the workers and the officers who work alongside them, I was able to gather information about their specific needs and expectations within the plantation industry. Alongside the Human Development Division at KVPL, I conducted small scale research studies to determine the prevalent issues and needs within the plantation community. By focusing on three specific target groups, the initial proposal writing, and budgeting began. Once all proposals were approved, the workshops and trainings commenced with sessions happening within the three different locations of the company.
The target groups I focused on were Women leaders (tea harvesters), Male Supervisors (Kanganies) in Kelani Valley Plantations and Unemployed Youth. For the women, we focused on empowerment trainings. By providing the selected women with motivational sessions alongside soft skills development programs, it can help make the women more comfortable in their work and personal lives. With this, we hope it will lead to the women having an increase in agency within the workplace and at home which can lead to an improvement in their standard of living. Through this program approximately 200 women were given training. The Kangany programs were designed with the intention of supporting the Kanganies perform their supervisory role in a professional manner that instills improved worker relations and productivity. It is expected to continue to raise the importance of gender equality and how detrimental prolonged gender-based violence can have on a woman's life.   Finally, for the youth the programs aimed to address the structural unemployment that has been evident for an extended period of time and provide resources and opportunities to help break this cycle. Throughout the programs, we provide a series of support and guidance sessions to the unemployed youth or recent graduates from a variety of different angles, such as career planning or steps to further education. We have also begun an HB analysis program for the female pluckers determine their varying levels of blood hemoglobin (HB) and to take the necessary steps if identified as anemic.
On August 15th, 2018, we had our first Women Leaders Exposure Tour. Women leaders from the KVPL upcountry estates were selected for this tour that gave them the opportunity to visit the Hayleys Office in Colombo, Sri Lanka. Additionally, they visited a tea auction at the Ceylon Chamber of Commerce where they saw the tea that they pluck being sold internationally and locally.
Through my time in Sri Lanka I have had the opportunity to work in a post-war developing country that my parents left as young adults and have yet to return. While it was amazing to see progress being made in the country as it is becoming a more popular as a tourist location, it was frustrating to see that there were still many systemic changes that needed to be made. There still continues to be prejudice amongst the majority and minority groups in Sri Lanka and I was constantly judged for being of the minority background. Women continue to be subjugated to patriarchal structures, that had me constantly cognizant of my surroundings.
Despite this, I was able to form bonds with my coworkers and my host family, people who I am still in contact with today. Additionally, I was able to meet family members for the first time and see my parents' childhood home and town.
I hope to return to Sri Lanka in the near future, this time with my family, and experience the culture all over again.